The Wood-and-Loam Floor and HORTUS
Constructive Disobedience: The Wood-and-Loam Floor and HORTUS.
A building that amortises itself energetically within 30 years. Is that possible? 
We'll let the figures speak for themselves, as currently evident in a new office building close to Basel. HORTUS – the House of Research, Technology, Utopia and Sustainability – returns its grey energy from construction and dismantling within a generation and is already energy positive after 30 years. And when, after many years of use, HORTUS is no longer needed, its parts are composted or re-used.
To reach this unusual goal, the commonplace means seemed only limitedly adequate. Therefore we first interrogated the planning process per se: What happens if we don't develop the structural framework based on the architectural design but instead the architecture is based on the optimal framework? In other words when the building, in an inverse process, evolves via the material and then the construction to become architecture?
In order to do so we compared various different standard floor and load-bearing systems, as well as column arrangements, in terms of aspects such as ecological and economic sustainability or functional suitability. The comparison showed that not only material, but above all the construction is the decisive factor in sustainability: in short, the simpler the construction, the more sustainably we can choose the material. What emerged is a floor system in which we selectively apply wood and loam according to their strengths so that they meet today's comfort and aesthetic requirements. The floor system has already been confirmed to meet fire classification REI60, and now tests are being run to go into automated production using robots. Parallel to this, we and other companies are jointly in the process of developing loam production techniques, where previously no standardised, automated fabrication existed.
Material
The primary load-bearing structure consists of solid-wood spruce/pine and, where large forces occur, of bar-laminated-wood beech. In order to optimally deploy solid wood, we take the market-standard cross sections into account. And to achieve form stability and lateral force resistance, we restrict ourselves to non-market cross sections wherever possible. Instead of the beech bar-laminated wood, the original intention was to use dovetailed beech beams, which due to their material behaviour proved unrealistic and also expensive. The boarding on the upper side of the floor is made of three-layered slabs, arrived at after having to first reject diagonally laid wooden planks. The loam is rammed according to its material requirements, i.e. tensile-strength-free as a vaulting between the wooden supports. It has a fireproofing effect for the wooden elements, and its mass absorbs vibrations and impact sound. Loam controls moisture, neutralises smells and has an antiseptic effect. On the lower side of the floor, loam provides an easily activatable thermal mass for heat storage – perfect for a comfortable spatial climate. In the meantime we've abandoned the idea of building-site manufacturing – for ecological and cost reasons.
Construction
We have developed the wood-loam floor with releasable inserted or bolt fastenings in full-circle design. After removal, the unprocessed loam and the untreated solid-wood beams are simply fed back into the natural cycle or recycled. The metal fasteners are completely recycled, while the remaining wooden elements are recycled as wood composites or used to produce thermal energy.
House
The load-bearing system from HORTUS is a flexible, efficient skeleton structure with inset trusses for bracing. The building design by Herzog & de Meuron is based on the load-bearing and the floor systems, as well as an optimised column arrangement. The planning team and the investors examined various architectural solutions in the interplay between optimising costs and occupancy and other aspects, through which HORTUS sets a new standard for sustainability.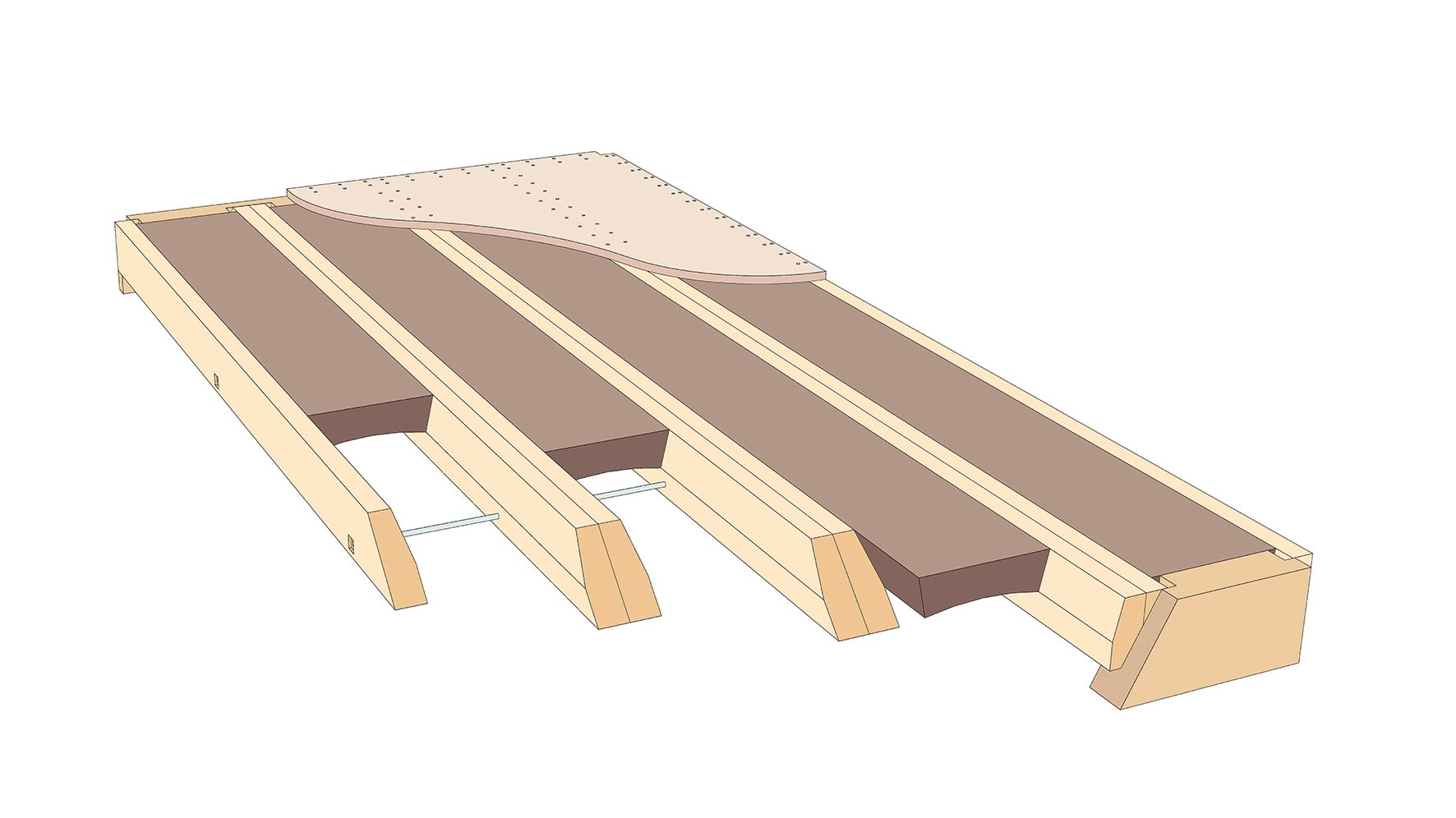 Nico Ros (b.1978) trained as a carpenter, then graduated with honours in civil engineering from the University of Applied Sciences Northwestern Switzerland (FHNW). Another academic qualification came in 2007 after he studied economics at the University of Fribourg, obtaining a degree in management with his thesis focusing on macroeconomics.
He has worked as a civil engineer at ZPF Ingenieure since 2003, and in 2009 he became managing partner. Among other things, he is responsible for acquisition, structural design and ecology. From 2009 to 2019, Nico Ros was a lecturer in structural engineering at the Institute of Architecture at the FHNW.
Remo Thalmann (b.1988) trained as an architectural draftsman and then completed the vocational baccalaureate. He graduated in civil engineering with a master's degree from the FHNW in 2016. Parallel to his studies, he worked as a research assistant in geotechnical engineering at the FHNW.
As a civil engineer, Remo Thalmann has been employed by ZPF Ingenieure since 2017. In addition to his expertise in ecology and life cycle assessment, he handles competitions and ongoing projects, including the Hortus project in Allschwil, which sets a new standard for sustainability. He is also actively involved in the Countdown2030 initiative, which calls for a rethink and redesign of construction in general.